She's ski training in California, she's cheering at her son's hockey game, she's off to an alpine race. Danelle Umstead is busy, busy, busy. And she only has a small window of eyesight to get it done
– between her absent central and peripheral vision – due to a genetic disease called retinitis pigmentosa. On top of that, she was diagnosed with Multiple Sclerosis. The Paralympic medalist was dropped from the US National Team for a season, after the 2018 Games, due to an MS flare up, and lost her health insurance. If she wanted to race again on the national team, she had to earn back her spot. She went back home to her roots in Park City to train hard with the National Ability Center competitive program to regain her top level performance. Just when things were looking up, she broke two bones in her leg in a 70mph crash during a ski race in 2020 and required three surgeries, including a bone graft eight months ago. Then, another setback – she had to retire her beloved guide dog, Aziza, who got out of practice when she stopped traveling during the Covid shutdown and her leg injury. Aside from guiding, the yellow lab makes people comfortable to come over to her and talk. It's a huge loss after a series of losses. And she's turning 50 right before the Games in February – an age when others have long since retired from racing.
But don't ever count her out. Danelle and her husband and guide Rob are determined to make it to the Paralympic Games in 2022.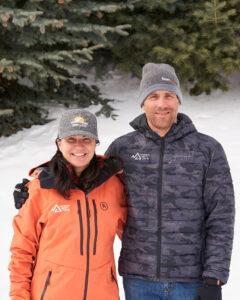 With Rob skiing ahead of her and taking her through each maneuver in the races through headsets in their helmets, she's already a 3-time Paralympian. At the 2010 Paralympics in Vancouver, she and Rob competed in women's slalom, giant slalom, downhill, Super-G, and combined and earned two bronze medals. Months after that victory, she became paralyzed on her right side, from the top of her rib cage to her toes. That's when she found out she has MS. She had to learn how to walk again, and her speech was impaired. "I would take going blind over MS any day of the week," she says. But she wasn't going to take it lying down. "We have to push ourselves. Getting out of bed is sometimes the hardest thing to do," she says. She persevered, and made it to the 2014 Winter Paralympics in Sochi, taking home a bronze medal in the super combined. In the 2018 winter games in PyeongChang, she competed in downhill, slalom, giant slalom, super G, and super combined.
Getting up there in age, with her eyesight worsening and her MS flaring up, especially in intense situations, someone else might find another avenue for joy. Not Umstead. Doctors have told her ski racing is risky for her; she found another doctor. "I'm not letting age, ability, or anything define me." When medications were causing depression, she doubled down on physical therapy, meditation and yoga instead. "I have more good days than bad days," she says. "I have to work for those good days – but don't we all?"
She could never imagine her athletic stardom as a little girl needing coke-bottle glasses and hiding them in shame, running into things and falling constantly. "I was bullied quite a bit," she says. "I was socially unacceptable." Diagnosed with degenerative eye disease at age 13, her parents taught her to ignore her disability and wait for a cure.
At age 29, she lost her mother to colon cancer. Her father invited her to an adaptive ski clinic in Taos, and the passion was ignited. "My life changed from that moment forward," she says. She moved to Taos, got a job at a ski shop, and asked fellow employees to don a brightly-colored bib to guide her down the mountain. A few years later she met Rob, a former college ski racer turned coach, at an apres ski bar. They moved to Park City for Rob's coaching job with the Park City Ski Team, and married at the top of Snowbird in 2008. She learned about NAC and set her sights on the Paralympics. Rob quit coaching and became her guide. "My dream became his dream," she says.
They are a phenomenal duo. When she's staring down from the top of the race course and she is filled with panic at what she's about to do, Rob tells her to enjoy it, and remind herself that she loves it. Both racing at 70mph, Rob must ski first and keep turning around to check on Danelle. Speed is their hallmark, though Danelle says it would be "awesome" to bring home a technical medal too this time.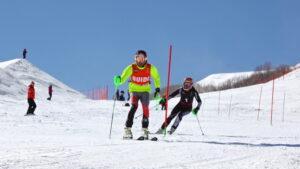 To make ends meet, Rob runs a kiteboarding and snow kiting school and Danelle is a motivational speaker. "We have to choose to show up every day," she tells her audience. "Get up and show up" is her daily mantra.
Hers is a story of setback after setback and triumph after triumph. Not many people would say, "I'm deathly afraid of jumping out of an airplane – and I want to do it," but that's Umstead. Rising from shame and hiding to Olympic medalist, today she proudly calls herself "The Blind Girl."
If you'd like to follow Danelle and Rob Umstead, click here https://vision4gold.com
For Danelle's Sisters in Sports Foundation, supporting women athletes with disabilities. https://sistersinsportsfoundation.org