As a six month old infant in Enfield, Conn., Andrew Haraghey contracted viral encephalitis. It affected the motor control areas of his brain and he developed cerebral palsy in his legs. For the rest of his life, his legs would be tight and spastic, or as he puts it, "they work against me." He would have to stay on top of stretching and mobility exercises to keep range of motion and ability.
His mother, Sheryl, taught him how to ski. "She put up with me hanging onto one end of a pole while she held the other for three years to teach me how to ski. As a kid, I wasn't quite strong enough to do it, to stay upright the whole time and control myself going down the hill, so she supported me as I built up strength. She wanted me to find something where I could push myself and have that ambition and that drive to do better."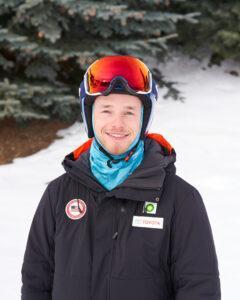 Soccer didn't work out well, and Haraghey says he was often relegated to kicking a ball on the side of the field rather than playing in the game. Baseball required running fast, which was not in the cards, so he concentrated on hitting. He couldn't stay up on ice skates so hockey was out. "I felt frustrated as a kid," he says. "It was difficult watching all my friends do it and I couldn't. But I also thrive more under pressure, so it pushed me to try harder or try in a different way and just be persistent."
Skiing was one of the few sports he could do with his able-bodied friends and truly keep up.
While volunteering as a ski mentor for kids at the Mt. Snow, Vermont, adaptive program, he heard about and introductory adaptive ski racing program in Breckenridge, Colorado. "I gave that a shot and kind of got hooked from there," he says.
He raced in able-bodied races and adaptive competitions, sometimes feeling that he didn't belong in either world. In one, the competition was too steep, and one not enough. Now he's where he belongs.
"It's freeing and a relieving feeling because it's something I can do at a high level," he says. "I don't feel the limitations that I feel in other every day activities. It's cool that it's something I can be competitive with, whereas I wouldn't be very competitive in running. It's nice to have that level playing field almost."
He skis four-track, two Dynastar skis as well as two Enabling Technologies forearm crutches with skis on the bottom for balance and extra support. "It does add some challenge but it also helps me compensate for my balance," he says. "It helps me get into a better position to be able to generate more power and be able to make a tighter turn, a smoother cleaner turn, and therefore a faster turn."
Racing is taxing for his legs, but staying active and stretching helps him stay mobile, and ski racing requires him to keep up the workouts. "I have to stay on top of my energy levels and how my legs are feeling," he says. He can't feel fatigue in his legs, but when he notices that "the output doesn't match the input," he knows he has to adjust the workload. He trains for hours each day in the offseason to strengthen his legs "so I have more of a bank to pull from," he says.
For the past four years, he's been skiing on the National Team and competing in the adaptive World Cup circuit. He can exceed 75mph but, he says, "sometimes it's better not to know – I don't even drive that fast on the freeway." He raced in the downhill and Super-G (speed events) in the 2018 Paralympic Winter Games in South Korea. He didn't medal though, and he's hoping to try again in 2022 in China. He may add GS or Slalom (technical events) as well, which require quicker and more dynamic movement throughout the race.
"It's definitely a higher level than I ever expected to get, and I don't feel like I'm at the top yet either, so I just keep pushing myself to be a little bit better every day," says the 26-year-old.
It's a comeback year for Haraghey after he broke his ankle and then a toe and had to sit out of skiing most of last year. Three months ago he broke a bone in his foot, and though it's healed he has to be careful not to reinjure
it. After racing in Canada recently and doing better than he expected, Haraghey says he's feeling more confident.
"The big goal is a gold medal," he says. He will compete in several races between now and March, including the World Championships in January where he'll be joined by other members of the NAC team. He puts his chances of being selected to compete in the Paralympics as "pretty good." His plan is to take one step up in each competition this season, and then "push to be on the podium in Beijing," he says.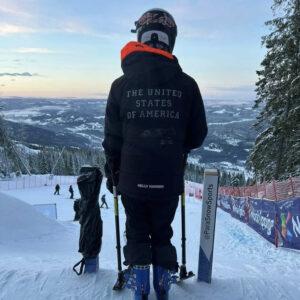 "I have a good shot at least at top 10," he says. "I'd be happy with that, but it's not quite the ultimate goal, you know?"
Follow Andrew on Instagram at: https://www.instagram.com/haragheya/