Not many athletes have ever succeeded in back-to-back Paralympics, yet Dani Aravich set her sights on running the 400m race at the 2020 summer Paralympic Games and then competing in Nordic skiing and biathlon (a combination of cross country skiing and rifle shooting) at the 2022 winter Paralympics. It is a lofty goal for any athlete, let alone one born without her left forearm and hand. Besides that, she only picked up Nordic skiing two years ago. "I was clumsy," she says of her debut on Nordic skis, using one pole. Nevertheless, three weeks later she found herself competing in the Para Nationals. She was one of only two women competing in the standing race, and she surprised herself with a win. She decided to keep running and add Nordic too.
When the 2020 games were postponed a year, the dual workouts were even more intense – one requiring sprint, the other endurance. Though she competed in distance running at her Boise high school and at the D-1 level in her freshman year at Butler University, the shorter 400m was new to her, and Nordic would take years to perfect.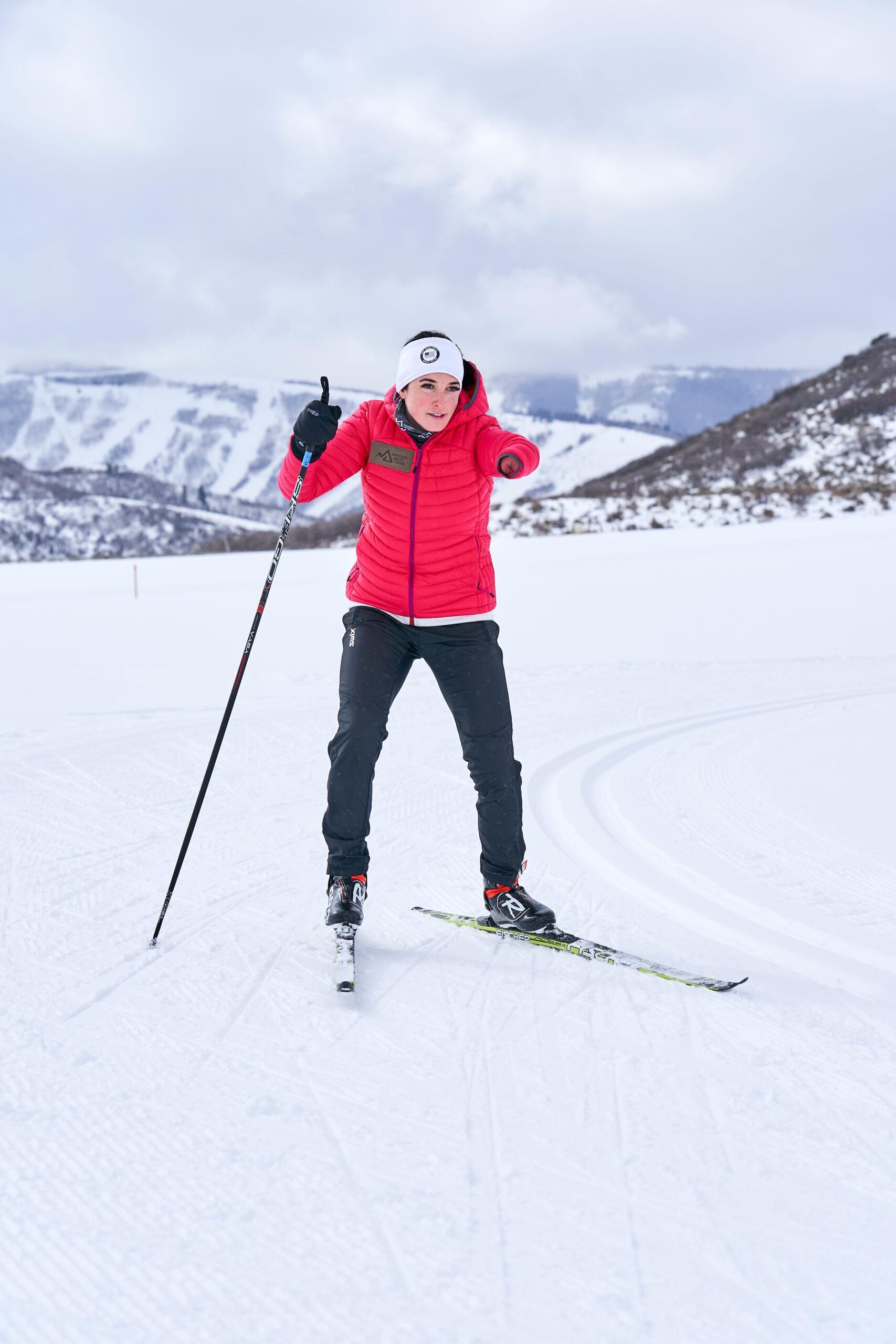 She made it to the summer games, but her running time wasn't what she'd hoped. She returned home and put all her focus on Nordic skiing, and has just learned she will be competing in Beijing.
"It takes a long time to learn the technique," she says. "I go back into running patterns that might not work in skiing. I find it to be way more challenging than running technique." She's working on transferring her weight fully and riding her ski longer – especially difficult without a left arm and pole. Prosthetic and assistive devices are not allowed. "Since I don't have a counterweight as much, it's hard to commit to my left side," she says. In the gym she works on balance, jumping onto a Bosu balance trainer and landing on one leg, then getting power to move to the next leg, mimicking the skill required on skis. "There's no magic solution to figuring out this sport in just a two year span of time," she says. Don't let her fool you – she's currently ranked 14th in the world.
She hopes to participate in six races, including a 15k and a 12.5k biathalon. It's not a proper question to ask how fast she can go. "Probably not fast enough," is all she can answer. Even races of the same length are incomparable as courses and conditions vary. Racers get points that take those variables into account.
She is fully aware that her competitors have been skiing since they were little kids. "I have to be realistic about my expectations in Beijing in terms of placement. My most achievable opportunity in this sport will most likely be Milan in 2026."
But she can't shake that fighting spirit. "It's like an angel and devil on each shoulder, telling me, 'you should be up there trying to fight for the win,' and the other one is like, 'you have to be patient, it's going to come with time.'"

Growing up in Idaho, her parents didn't let her use her disability as an excuse. Both D-3 athletes, her mom played softball and basketball and her dad ran track. They took Dani hiking and fishing regularly and had her downhill skiing with no poles at age 3. When she got older, her parents fully expected her to participate in sports, and she played soccer, softball and basketball. She used her nub to balance the basketball before a shot, and she had a private coach teach her ways to overcome her obviously vulnerable left side. By junior year, she devoted herself to running cross country and track, and was recruited to Butler.
She wore a prosthetic for cosmetic reasons from the time she was an infant, but it was heavy and clunky. "As a kid, I hated when people would ask me what happened to my arm, or when strangers would stare. That's why I wore a prosthetic for so long. I probably had the hardest time in middle school, but so do most girls. I was very lucky that I went to the school with the same people from first grade through the end of high school and so I got to know everyone and everyone got to know me." She eventually ditched the prosthetic.
Aravich chose to go to college where she knew no one. Meeting people for the first time is always dicey – would it become a taboo subject that no one knew how to handle? "I always wanted to be able to joke about it and laugh about it and not make it some serious sob story," she says. She told her new friends, "'You can ask me questions, you can joke about it, let's not make it an elephant in the room.'" Others followed along and her fears dissolved.
She graduated with a degree in marketing and entrepreneurship and a minor in political science, hoping to work on the business side of professional sports. She landed her dream job for the Utah Jazz, but soon ski training and racing all over the world left her little time for a traditional job. By mid-2019 she went part-time, and then lost her job due to the pandemic. Now she works part time on freelance social media jobs and she casts real people in product ads. It gives her the flexibility to train 15 to 20 hours a week and travel for races.
Aravich volunteers at NAC as an assistant ski instructor, and as an ambassador. She also volunteers at Shriners Children's in Salt Lake City, where she received her first prosthetic as a 6-month-old. She is involved with the Challenged Athletes Foundation, and coaches downhill skiing, soccer and track at NubAbility camps for kids with amputated limbs.
Follow her at Daniaravich.com or on social media: @theonearmdan She is one to watch, this year and beyond. "I have very high expectations for myself," Aravich says. Coaches and the staff always have to remind me, 'you've only been doing this two years. It will take some time to become the best.'"