Backcountry partners with the National Ability Center (NAC) around our shared mission of breaking down barriers to the outdoors. Based in Park City, Utah, the NAC empowers individuals of all abilities from across the globe through outdoor recreation. To support their work, we feature stories about adaptive athletes and serve as an outfitter of NAC athletes and guides.
Evan Lalanne is a mono-skier on the National Ability Center High-Performance Team and has raced with the NAC since 2019, after becoming paralyzed following a hiking accident in 2016. When he's not ski racing with the National Ability Center, Evan is an Engineering student at Cal Poly and spends his time skateboarding. After videos of him skateboarding on his wheelchair through California's arduous hills and roads went viral, Evan was featured on The EllenShow and even met Tony Hawk.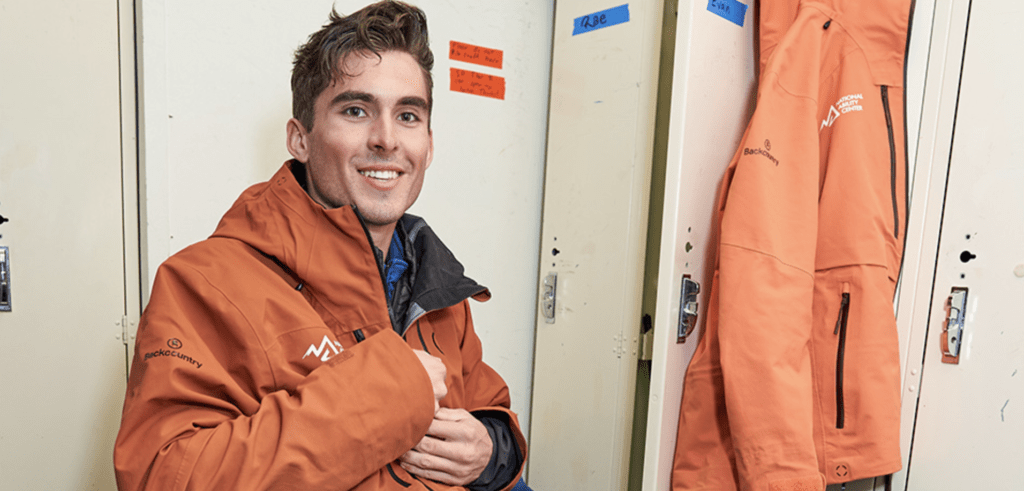 When did you first decide that you wanted to not only ski, but race? Had you skied at all before your accident?
I knew I wanted to get into mono-skiing while I was still in the hospital. I'd seen videos of guys who could still rip and knew I'd at least have to give it a try. Although I'd only skied on and off before my accident, it didn't take long for me to surpass my prior ability as a stand-up skier. The more days I put in the more I enjoyed it and decided I wanted to pursue racing at the end of my first season.
How did you find your way to the National Ability Center?
After taking lessons in Mammoth my instructors recommended the National Ability Center (NAC) in Park City as it was one of few mountains with an adaptive race program.
What does your training routine with the NAC look like?
During the Winter season, I train five days a week with the NAC. Typically, we start the day doing drills as a group and then we move on to slalom or giant slalom gates in the afternoons.
Are you hoping to compete in the 2022 Paralympics? What are some of your other goals as an athlete?
I'd love to compete in the Paralympics at some point—Italy in 2026 seems like a more realistic timeline for me. But, who knows, some good finishes early next season and maybe I can make it happen.
"I'd seen videos of guys who could still rip and knew I'd at least have to give it a try."
Where's your favorite place to ski when you're not training or competing?
I love spring skiing in Mammoth. I can usually get a few days in with some buddies after the race season is over, which is always a good time.
You've been featured on "The Ellen Show," where you met and skated with Tony Hawk. What inspired you to put your wheelchair onto a longboard? Do you have an official name for this new sport?
Things started with a hoverboard I had from before I was injured. One afternoon I made some wood blocks in my garage that allowed me to balance on top of it and ride around. I looked around online to see if anyone else had done something similar and in the process found videos of a couple people balancing a wheelchair on a skateboard. After my success on the hoverboard the potential of the skateboard intrigued me. I purchased a board and through several iterations landed on the design of the 3D printed brackets that I use today. I think wheelchair skateboarding seems like a logical name for it.
Check out his wheelchair skateboarding here.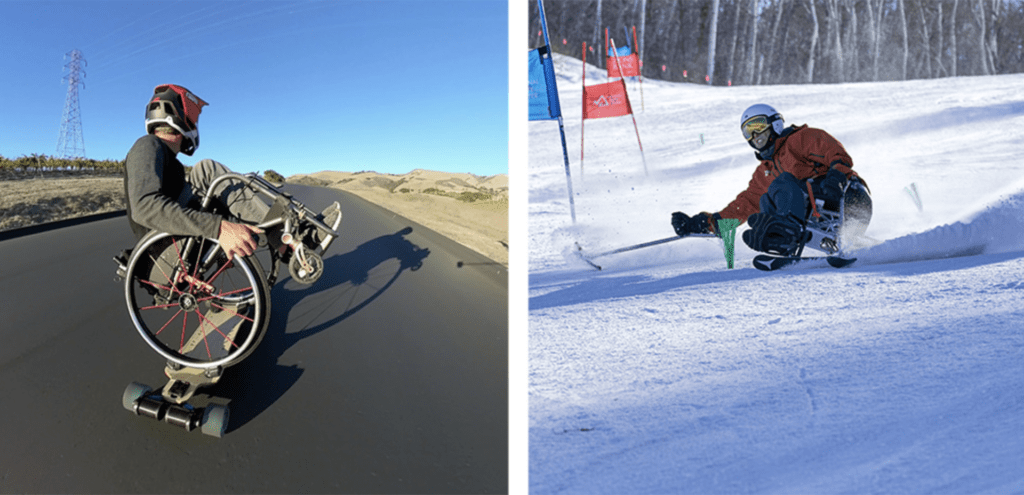 What's the next great sport you're going to invent?
I'm workin
g on modifying a unicycle atthe moment, not sure if it'll turn into a sport, but it's showing some promise.
What are your three favorite items in your gear closet and why?
I love my Backcountry Silver Fork 750 down jacket. It's my daily driver during the ski season and keeps me warm, while still being lightweight and flexible. My 100% Trajecta Mountain Bike Helmet is another one of my favorites; super comfortable, lightweight and provides great ventilation in the summertime. Lastly, my Outdoor Research Lucent Heated Mitts, before getting these my fingers were frozen on every lift ride. Major game-changer.
In what other ways—aside from skating and skiing—do you enjoy getting into the outdoors?
I wakeboard occasionally, but spend the vast majority of my outdoor time skiing and skating. I'm hoping the unicycle will have a lot more off-road capability and should be able to get me out on some hiking and mountain biking trails.
"Although I'd only skied on and off before my accident, it didn't take long for me to surpass my prior ability as a stand-up skier."