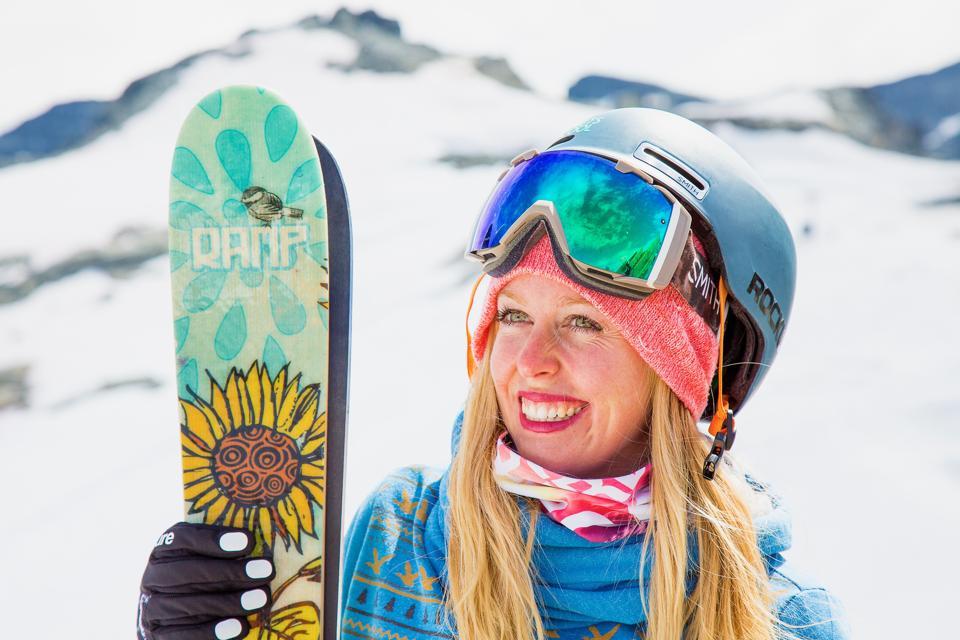 Jamie "MoCrazy" (her real last name is Crane-Mauzy) learned how to deal with adversity early in life. At just 22 years of age and on top of the world in her sport of slopestyle free-skiing, she suffered a catastrophic fall upon landing a big jump. It put her in a coma, paralyzed her on one side and eliminated any chance of her making the Olympics. With the help of good doctors and her dedicated family, she has pushed the boundaries of recovery. She gives motivational speeches, works with numerous charity groups (Brain Injury Alliance, High Fives Foundation, National Ability Center) and at her non-profit (www.mocrazy.com). She is also able to ski again, not competitively, but for her own pleasure. We caught up with MoCrazy, now 28, to hear her inspirational story firsthand. Following are edited excerpts from a longer interview.
Jim Clash:
In your wildest dreams as a young skier, did you envision a catastrophe like the one that befell you in 2015?
Jamie MoCrazy: Not at all. Growing up, I thought I was invincible. I understood how to perform at my own personal best every day, and I understood I was taking the steps to perform my tricks safely. That fluke accident obviously changed my life.
Clash: Do you remember anything about it?
MoCrazy: I remember nothing of the accident or the six weeks following it. My sister, Jeanee, is writing a memoir about my story – "Don't Blink, You'll Miss It"- a narrative nonfiction that shares the story of her own terrifying days when no one knew if I would even live. The book opens with two sisters competing at World Tour Finals in freestyle skiing. On the second run, I decided to progress my run from a single backflip to a double backflip – I was the first woman to double-flip in a slopestyle ski run at X-Games in 2013. I had also been ranked first or second overall in the world for the previous three years, so I felt that being at the top of the podium was the only option for me. Upon landing, I crashed and immediately went into a coma, paralyzed on the right side. I woke up from the coma unable to walk, or talk, and with serious amnesia and no memory for weeks. During the relearning process, I was 100% dependent on my family. Their sacrifice, determination and mindset is why I am who I am today. Hearing this story told by my sister gives a raw, emotional viewpoint that takes me, and the reader, on my tenuous journey. Jeanee is still a professional skier, and co-founder of the charity, MoCrazy Strong.
Clash:
What made you so determined to ski again after rehab? Many people would have just given up.
MoCrazy: Skiing is a lifestyle passed down in my family for generations. My grandmother was a World Cup downhill champion in the late 1940s. My mother, Mama MoCrazy, had me skiing as soon as I could walk. The sport is a strong identity for me. So it was never a second thought that I wouldn't go back to skiing after my accident. We all knew this before I could even climb stairs again on my own.
Clash: What's the most oft-heard comment from folks after your inspirational talks?
MoCrazy: "Before I saw you, I didn't think it was possible to get over my own struggles. Now I have new hope, inspiration and understand how to be resilient."
Clash: What are you afraid of, and how do you handle fear?
MoCrazy: There is a wonderful ski legend [C. R. Johnson] who had a traumatic brain injury [TBI], recovered, went back to skiing hard, hit his head again and died. That was my biggest fear after my own TBI, and why I chose not to compete or ski hard again. As I said earlier, I was the first woman to double-flip in a slopestyle run. I have been doing backflips on the trampoline since I was eight. I do them flawlessly now. But I back-flip into water ramps and onto an air bag, not on snow anymore, because I don't want to risk catching my ski edge and hitting my head again. I have real fear I need to accept now, and I step away from what scares me. Maybe that fear is there for a reason.
Clash: What was harder to deal with, the physical or emotional struggles during your recovery?
MoCrazy: Emotional, by far. The visible, physical injuries went fast and were fairly easy for me. I had so much awareness and media attention when I did things like walk again. I have always been extremely competitive with myself, and have used that to push my body beyond its capabilities. But the first winter I realized I was not going back to the Jamie before my accident, I broke down. When I would leave the hospital, I would cry multiple times a day. My emotions were easily triggered. I had no goals, no dreams, and felt my life was washed up. It took me years to figure out how to love Jamie-two. Learning to truly love and believe in myself has opened the door to so many opportunities. One was realizing that I was in love with my best friend!