Puerto Rico has never sent an athlete to the winter Paralympic games, so Orlando Perez will make history when he competes in three downhill events for the island. He'll be going for gold on his monoski in the Super G (super giant slalom, a speed event), giant slalom and slolom (technical events)."I'm not going to become just the first Paralympian and just make it to the Paralympics – my goal is to go all out," which means he will likely have to beat friends on the National Ability Center High Performance Team who hope to be representing the United States. "They are the guys who actually taught me how to sk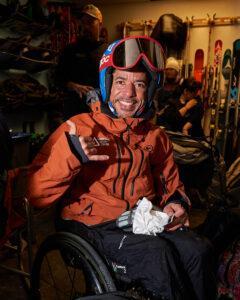 i race," he says. "I went from admiring them for their accomplishments in the Paralympic sport to now I'm one of them, so it's nerve-wracking but fun at the same time. I plan to beat them."
Perez was serving in the U.S. Army in 1995 when he fell from a climb on a training wall. His spinal cord hit the rocks, and eventually, a benign tumor grew in his spinal cord. He needed surgery to remove it, and woke up a paraplegic, unable to use the lower half of his body. He received a medical discharge from the Army, a career path set by his veteran grandfather. "It was something I always wanted to do, serve in the military," he says. "I felt cheated because I felt like it got cut short."
"Right away after injury, depression sets in because you yourself feel less,"he says. "You're not able to do the things you used to do before. You had an idea in your mind of what you wanted to be, about how life was going to look like, and everything all of a sudden completely changes to the point where you think that you're a less person, that 'there's no way I'm going to be able to attack life the way I want to attack. Life is attacking me.'"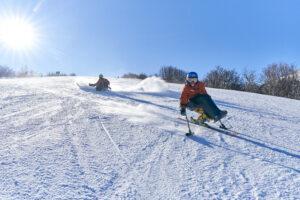 His family urged him to try wheelchair basketball, but he thought it would be one big pity party. After watching the athletes, though, he changed his mind. He ended up competing on the college level, at Oklahoma State University, where he earned a BA in Adaptive Leisure Programming. He also played on the Puerto Rican national team, and won four medals.
"Being able to play basketball competitively opened the doors for me to go to college and graduate. It opened doors for me to say I can be an example for my kids when I thought I was going to be a burden for my kids. All those challenges that I put in front of me to try and make myself more competitive in recreation, it just opened a new world to me where now I just feel like I am blessed from my disability."
It wasn't until 2006 that he tried adaptive skiing and, he says, he fell in love with the sport. The monoski that enables him to ski down the mountain despite his paralysis is a chair with a shock absorber and a single ski underneath. Now at 46 years old, he's ready to compete at the highest level. "I feel 25," he says.
Perez has a competitive edge in the form of his wife, trainer and conditioning coach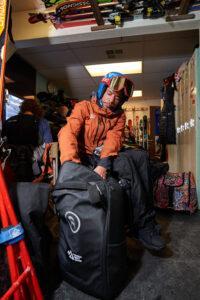 Marcy Vogler. The pair, who have six children combined, constantly work on improving his performance. Racers have to face downward with their knees facing a different direction, and that's especially difficult for Perez because he's paralyzed from T-6, which is high, Vogler says. In addition, she randomly throws ping pong balls at the wall for him to catch in order to improve his reaction time, and they are working on his posture.
What does it feel like to get out there and race? "A lot of adrenaline," he says. He memorizes tricky sections of the course and always visualizes what he's going to do two gates ahead.
He will study the Paralympic course online, with all the pitches and turns, but he will not know exactly where the gates are going to be until the day of the race. He'll have 30 minutes to inspect the course. Order of skiing will be important too because the course is harder as more skiers come down and cut into the snow.
He acknowledges it's scary going that fast and putting faith in one single ski beneath him. "One little mistake could change everything. One little fall would change my life completely," he says. He'll be training and racing from now until the Paralympic Games in Beijing in March. Locals can cheer him on at the National Ability Center's Huntsman Cup February 8-10, 2022 at Park City Mountain.
"I feel like I'm living the best moments of my life right now," he says.
"Being disabled is actually a blessing because I think I achieved more in life being in a wheelchair than I ever would have being able to walk."
To read more about Perez, sponsor him, hire him to speak, or buy fundraising swag, click this link to his athlete profile: https://bit.ly/OrlandoVPerezAthleteProfile