Through the National Ability Center, instructor John Willis '78 works with individuals on defining success.
An 18-wheeler slammed into a dump truck driven by a man who now goes by the name "Bam Bam." The accident left him in a coma for 72 days, and today, he still experiences challenges with balance and strength.
John Willis '78, an instructor at the National Ability Center (NAC), has been cycling with Bam Bam every week for the past few years. They started pedaling together on a two-person recumbent bike, then Willis had Bam Bam try out different types of solo recumbent bikes, and recently, Willis bought Bam Bam his own recumbent bike through the NAC.
"My goal was to get him his own bike to ride as a next step toward independence," Willis says. Second only to safety, helping people fulfill their potential to the fullest is the priority of the Park City, Utah, organization.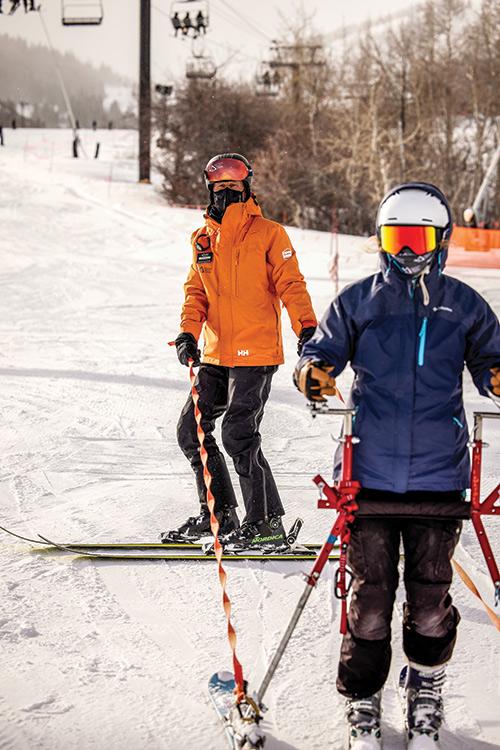 The NAC offers an array of programming, from wakeboarding to rock climbing, for individuals who have a different ability, whether that be physical, developmental, and/or intellectual. Students range from children on the autism spectrum to adult veterans experiencing physical or mental challenges as a result of their service. Willis primarily provides instruction on skiing and mountain biking, although he also supports the archery activities and the ropes course because of his EMT training. Through the Professional Ski Instructors Association of America, he recently earned his level one certification, which focuses on guiding visually impaired and blind skiers.
"Our mission is to get people to the point where they have the highest degree of independence — in other words, the least dependence on equipment," Willis says. "That progression may take weeks, months, or years, depending on the student … but we provide these experiences for folks to participate in sports to the degree that they absolutely can."
It's all about "I can," Willis tells his students. With his guidance, they determine what their level of success looks like, which is different for every individual. For a child with sensory sensitivities, a successful day could be helping him feel comfortable wearing a climbing wall harness. Others with whom the NAC work have competed in the Paralympics. In fact, at the 2018 Paralympic Winter Games, the NAC's athletes received seven medals.
Willis became involved with the organization through his own enthusiasm for skiing. Before moving to Utah, he and his wife would travel there for vacations. While waiting in the lift lines, he began noticing skiers with adaptive equipment, "and I just thought it was really cool," he remembers. When he and his wife spontaneously decided to move there from Jacksonville, Fla., Willis joined the ski patrol. He'd spent most of his career as an attorney, including eight years as vice president and corporate counsel for Spirit Airlines. Remembering the adaptive skiers he'd seen in the lift line, Willis learned about the NAC, contacted the recreation director, and "talked myself into a job.
"I've really grown with it," Willis says. "It took time to fully understand what we're doing and how it works. To me, what we do requires emotional depth and endurance." Their mission is important in that the NAC is giving people an opportunity to do things they might have otherwise thought they couldn't do or have been dissuaded from doing, he adds.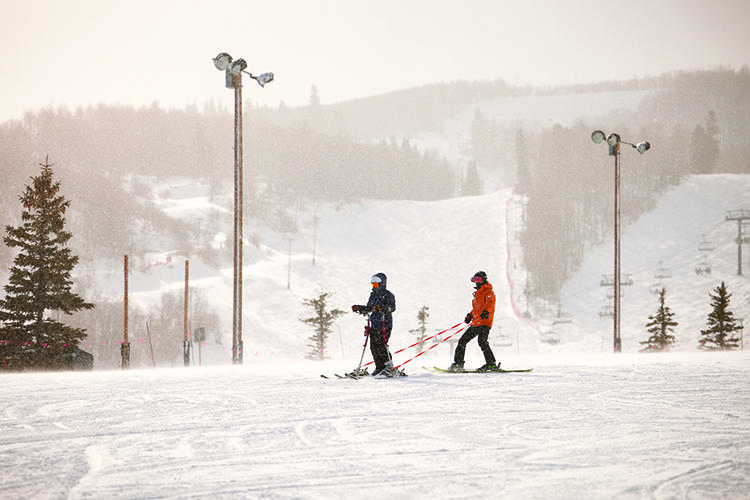 Another aspect of their work is educating able-bodied groups. For example, instructors will provide goggles that simulate different types of visual impairments and students have to navigate an obstacle course, or instructors will have students attempt the climbing wall without the use of one leg. "We try to heighten awareness about what people have to overcome," Willis says.
While he's out teaching students of different abilities on the ski hill, Willis hopes that others see his students as he did a number of years ago and think, "That's really cool." Most importantly, he wants others to realize that "people are people first, and then you go from there."