Moab is known far and wide as an outdoor playground, a base camp for a multitude of adventures beside towering sandstone monuments and along the majestic Colorado River. For those seeking easily accessible terrain that still provides that quintessential Moab experience, there are plenty of options. The following is a sampling of trails and viewpoints that are wheelchair accessible and are either paved or maintained hard-packed dirt.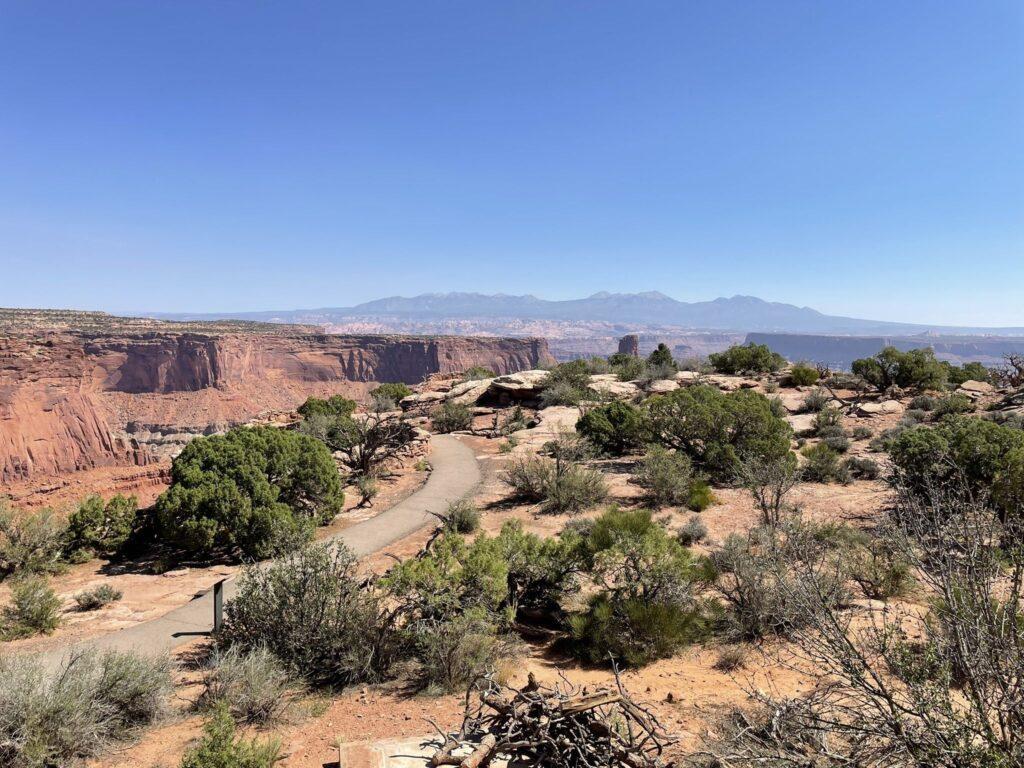 Dead Horse Visitors Center Loop, Dead Horse Point State Park
Length: 0.2 miles
Trail surface: Flat pavement
Located just outside the Visitor Center, this trail loops out along the rim of the mesa and provides great views to the east of the La Sal Mountains and Chimney Rock. Trail-side exhibits and interpretative signs line the trail, highlighting some of the native desert plants and trees in the area.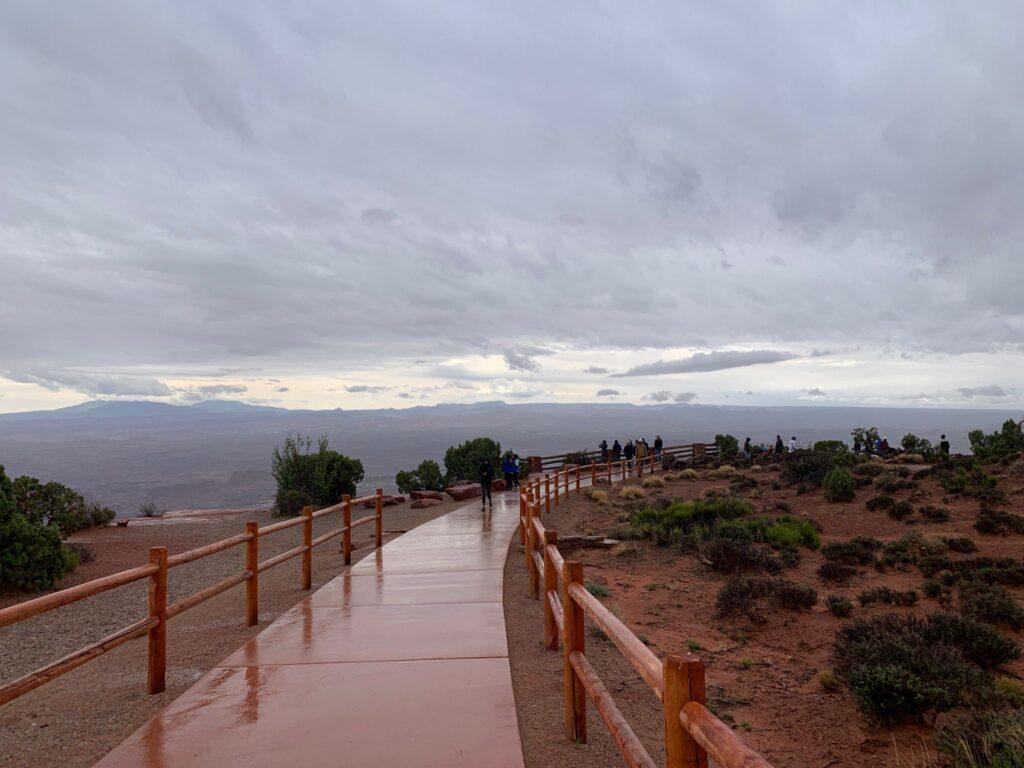 2. Grand View Point, Canyonlands National Park
Length: 100 yards
Trail surface: Flat stone slabs

Located at the southernmost tip of the Island in the Sky scenic drive, this viewpoint is about a 15-minute drive from the visitor center, and about a 60-minute drive from Moab.

From the parking lot, the first 100 yards to the first viewpoint are paved. Signs point out landmarks, like The Needles, Monument Basin, and the Abajo Mountains. From spring to fall, Rangers offer geology talks.

Check out the schedule of ranger programs here. Schedules may change. Check at the visitor center for the latest program information.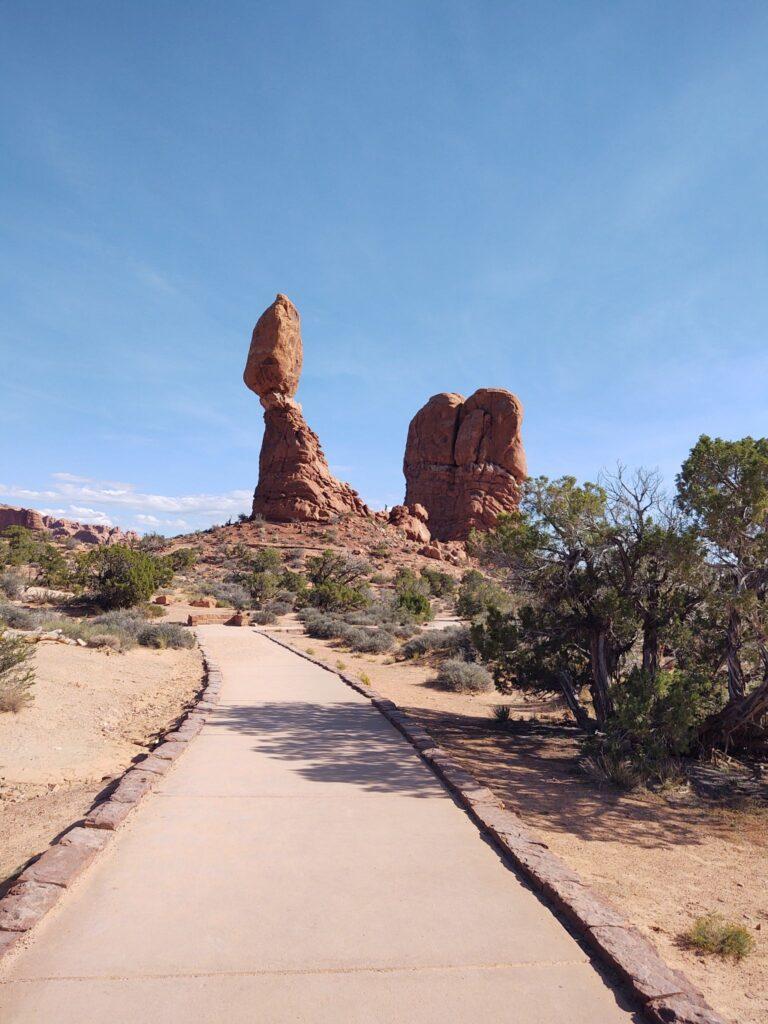 3. Balanced Rock Trail, Arches National Park
Length: 0.3 miles
Trail surface: Flat concrete
Located off the Main Park Road, the beginning of the Balanced Rock Trail is wheelchair accessible and is at least 6 feet wide. A concrete walkway leads to a 3,600 ton boulder perched atop a sandstone tower. Past this prominent feature are views The Windows and the La Sal Mountains. This spot is great for stargazing and night photography, as it is far enough from the lights of Moab. There is 1 designated accessible space in the paved parking lot, and across from the lot is an an accessible picnic area with multiple picnic tables, a covered canopy, vault toilet, and spectacular views of Salt Valley and Balanced Rock.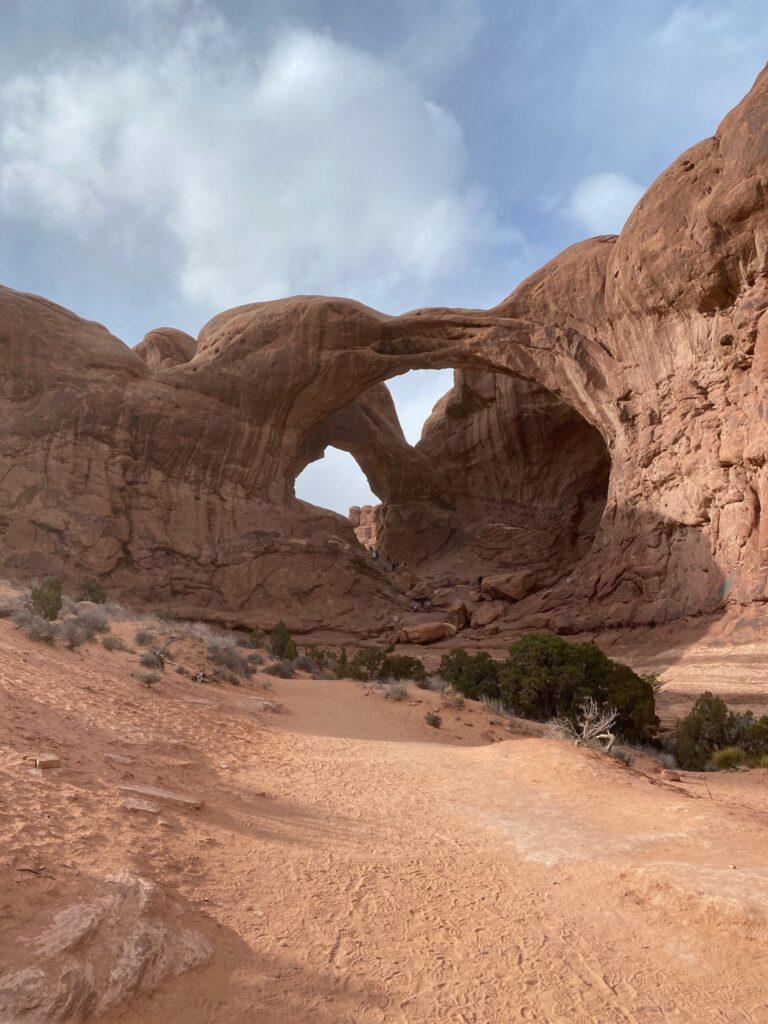 4. Double Arch Trail, Arches National Park
Length: 0.6 miles
Trail surface: Hard-packed dirt/sand
This out-and-back trail leads to a double arch formation in the Windows Section area of Arches. It's located just over 9 miles into the park, just past Balanced Rock. The hardened dirt surface may require more assistance and care than a paved surface. The average grade is 2%, with the final .1 miles very steep and a suggested stopping point marked.

Double Arch is the

tallest

(112 ft/34 m) and second-longest (144 ft/44 m) arch in the park.
5. Landscape Arch Trail, Arches National Park
Length: 1.9 miles
Trail surface: Hard-packed dirt

This easy segment of the Devils Garden trail is well maintained with gentle elevation. Landscape Arch is one of the world's longest stone spans, stretching 306 feet (93.3 m), and is only about 11 feet (3.4 m) thick at its center. In 1991 a 60-foot-long (18 m) slab of rock fell from the bottom of the arch, and remnants of this rock fall are visible beneath the arch.
More information on accessible adventures in Moab can be found here.