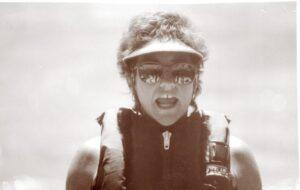 PARK CITY, Utah. — Meeche White's historical, actionable passions are directly attributable to the thriving sport culture that is today's Park City, Utah. As the co-founder of the National Ability Center (NAC), White put the business of supporting athletes with disabilities on the map.
She arrived in Park City in 1984 with the express intent to "start the National Ability Center." NAC co-founder Pete Badewitz, a veteran, an athlete with a disability himself, her former husband and lifelong friend, dreamed of starting his own program. The two had been ski instructors in Colorado at an adaptive sports program.
"We were looking for a mountain that had good teaching terrain and somebody pointed us towards Park City." said White. "We drove into town, the Yarrow (now the Double Tree) was right there, there were no traffic lights, I fell in love with the town, looked at Pete and exclaimed, Ah! I'm sure they have the best terrain, we're moving here." And the rest is herstory.
White spent the next 23 years as Executive Director, creating, from home and from abroad, the world-renowned NAC which today occupies two locations. One is the sprawling ranch located just a hop skip and a jump out of town, facilitating adaptive horseback riding, gardening, archery, biking, rock climbing, hiking, yoga, fishing, water skiing, rafting and lots and lots of laughter. People can also lodge there in the accessible hotel.
The second is the Mountain Center at Park City Mountain, which facilitates adaptive skiing, snow biking and snowboarding and giggles 101 as it's being prepared for expansive new construction, any day now, under the tutelage of White who, these days, serves as the NAC's interim C.E.O., happily, temporarily back after her initial retirement.
Just prior to retirement White felt as though she was , as she eloquently puts it, continuing to decorate a cake. "The NAC was like a cake, the cake was baked, icing on, there were decorations on it, there it is," she said. "I wanted to give someone else the chance to take it to the next phase of what it could be. Twenty-three years was a good haul and now I'm back."
White said, "In 2008 I retired from the NAC, then in 2011 I wrote a grant to the US State Department which allowed me to continue on but beginning new international work with the Department of State."
The NAC has immense international impact in no less than 15 countries with a dichotomy of experiences. Elite athleticism often culminating at the Special Olympic or Paralympic Games juxtaposed with other people with disabilities, not necessarily athletes, who want for only improved ergonomic mobility around their town – thus improved quality of life.
White's vision sees little comparison between the two polarizations, to her as it's all just making the world a better place. "People with disabilities have the same opportunities as those without disabilities so to be able to go skiing or ride a horse or to play a particular sport, we made that happen, that's the heart of what we do. Then, in regards to the higher-end sports, the opportunity is there for people who want to do more, they can do more."
Meeting Meeche White is a memorable moment countless people around the globe have gotten to experience. Meeting the Dalai Lama is a memorable moment White has gotten to experience.
Open during COVID, the NAC's strict safety protocols has it operating at an impressive 75% of the regular number of programs. Families continue to move to Park City to play at the NAC, college graduates continue to move to Park City to work at the NAC and locals continue to proudly make the nonprofit among the most-boastable to their visitors.
Enmeshed for a while, White said she "realized the NAC was a big part of my life but it was a stop along the way and I'm stopping back in right now." In her next attempt at retirement she plans on traveling to Africa for her first time this summer with a cousin. She visits her daughter often in Washington State on her successful, small, commercial, organic farm, where she is contented in the role of Chief Vegetable Washer at lunchtime. White, who ushered in the moto Discover NAC said she's looking forward to "rediscovering my new self" in retirement.
If past is prologue, her sentiment about her retirement won't be much of a stretch. She said she simply desires to "be productive, be helpful and have some fun."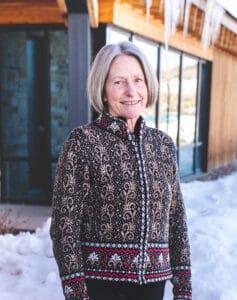 To volunteer, participate or donate to the 17th annual Red, White and Snow fundraiser, being held March 4-6, 2021, go to: Discover NAC